November 13th, 2012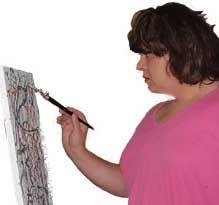 There are things in the world that make the world a better place, and there are things that make it worse. And within those categories, there are things that are winning strategies for all involved, and there are things that suck. Art is one of the things that suck.

When it comes to artists, there is sometimes a generic picture of the creative minds of the world: This is a person who creates because of an irresistible drive; a person who is tormented by inner demons, living on an emotional roller-coaster - a dark ride that likely has an equally dark end. All of this is true.

Art isn't a career, it's an addiction. Art is the inner voice that won't leave you alone; a voice that is never satisfied and may never be muted - only perhaps muffled for a bit. It is not your friend.

If you are very VERY lucky, your art might someday move and inspire someone. We all hope for that. Art is, in this sense, one of the highest callings of humankind. Art is what makes us civilized. But for the artist, it is the hard master that drives us. And while you may dream of inspiring others through art, you should expect poverty and obscurity.

In other words, art sucks.

If someone is thinking of a career in art, perhaps as a pathway to fame and fortune then all I can say is, don't do it! You might as well choose a career as a heroin addict. You'll do just as well.

On the other hand, if you can't take this very sound almost flawless advice, then you can accept your fate as a societal outcast. Because, that's what you are.